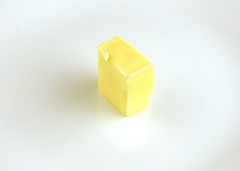 Wow. 200 Posts. This is how many posts I have in calories.
This is sad to me because I like me some butter. That pat is a poor excuse for the number of posts I have had.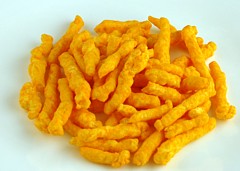 This is a little better. Cheetos are always good and it looks like a fairly good amount.
Pics courtesy of
www.wisegeek.com
Ok, I am stalling. Truth is, I am not exactly sure what to talk about in my 200th post. I though about tackling an important topic like this election year or going green but nothing was really grabbing me about those topics today. I thought that maybe I'd talk about some huge significant moment in my life but I didn't want to get too heavy on you. I got so concerned with what I shouldn't write that I got stressed out and couldn't think of what to write about at all. Then it hit me...I'll write about bloggers block!
Bloggers block it more serious that mere writers block because we have SOOO many modes of communication at our fingertips that if we can;t come up with SOMETHING to blog there is MUST be something wrong. What do I do when this happens to me? I get a cup of tea. Now if I am at the office, it's easy. There is a Keruig machine to do it for me and I add honey. No big deal. If I am at home, there is boiling and steeping (or is it seeping) involved. I usually let it stee..see...soak for about 5 minutes (yes dear Suburbia and BS5, I know how to make a cuppa w/o a teabag). Then I strain and add honey but I have to wait for the honey to melt its way off the spoon so I don't have to take the spoon with me. Hits me in the nose when I am trying to drink. Now I can relax and think about what to write.
Well, heck I just wrote about making a cup of tea, the meaning of life cannot be far away. While I am sipping I'll check my email, Facebook, CNN and local news to see if anything captures my attention. Since lately it has all been economic stuff (deal with that at work don't want to blog about it) or the election (mind already made up and loathing the other side) there is not much I can find
WAIT! Is that a story about a woman giving birth in a tree. Oh, no wait. Page wasn't loading correctly, captions now straightened out. Seems there are too many bears in trees in areas that are being overdeveloped in Jersey. Shocker. Not much to see here. Same stuff different day.
This is what I am worried about. Writing about the same stuff everyday. I also worry about writing things that will cause my followers to drop off my list. There is a lot in me that is just waiting to come out but I haven't put it out there yet because I was cultivating my garden of bloggy friends. Now I realize. I was
hiding
again. So 200 to me means that I will not be hiding anymore. I will continue to post stuff like you have been seeing but I will also be posting things that might be opinionated and/or controversial. I promise to get my facts straight before I rant if you promise to stick around. Is that a deal?